A Dubuque woman has been arrested for allegedly trying to assault a man with a hammer.
Police say the incident happened Monday morning shortly before 11 at a home in the 26-hundred block of Pinard Street.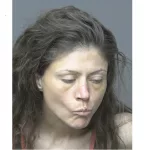 According to police 35-year old Tanie Ann Wilkinson is charged with assault while displaying a dangerous weapon and 5th degree criminal mischief.  53-year old Brian Bushman reported to police that Wilkinson came into his bedroom while he was sleeping, started yelling and swinging the hammer at him.  Bushman was able to escape without injury, but several holes were found into the wall of the bedroom.
Wilkinson is being held in the Dubuque County Jail.